This year, El SAKYA celebrates the 10th anniversary of its establishment and its presence in the field of agriculture. The celebration took place at the "Agri Expo" exhibition. El SAKYA booth at the exhibition held many surprises, prizes and unusual activities for the visitors of the exhibition and the visitors of El SAKYA company booth for 4 days of the exhibition.
El SAKYA Company is one of the most important and largest agricultural companies in the Egyptian market, which specialized in importing and providing high-quality agricultural solutions to Egyptian farmers. As 2023 begins, El SAKYA for Agricultural Development completed its tenth year since its existence and inception in 2013, and El SAKYA for Agricultural Industries completed its seventh year.
El SAKYA chose the booth decoration of the exhibition this year in the form of a real theatre, and the distinctive decoration for this event was designed to present dramatic and theatrical sketches on the stage and multiple commercial interviews every day.
The sketches of the first day of the celebration began with a band playing "Rababa", which spread throughout the exhibition to bring joy to all visitors. The company's leaders (Eng. Moaaz Abdallah and Eng. Mohamed Ramadan) also honored study friends at Faculty of Agriculture, Ain shams university, under the slogan " Friends of Today and Yesterday", where 50 friends from the class's graduates were honored in his gesture of affection, appreciation and love between them, with a documentary film of the most important old photos that brought them together.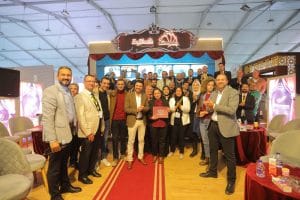 El SAKYA Company also honored many companies in the agricultural sector as an expression of mutual respect and appreciation, most notably Quesna Agricultural Development Company, Setra Company, Agri Smart Company, and DAMAC Company.
On the second day, El SAKYA Company honored the departed symbols of agriculture in the presence of their relatives and their families, as they gave shields of honor to the families who attended the celebration, in a state of gratitude, as it is a precedent for the "El SAKYA Agricultural Development Company", which remains an eternal memory in the minds.
On the third day of the company's celebration of the 10th anniversary of the company's establishment, the leaders of El SAKYA Company honored all the employees of the company since its inception until today, offering them the warmest congratulations and blessings for their journey during the past ten years, and the great progress and success they contributed to, which made it in Introduction to agricultural companies operating in the Egyptian market.
Eng. Moaaz Abdallah, Chairman of the Board of Directors of El SAKYA for Agricultural Development and El SAKYA Company for Industrial Industries, Eng. Mohamed Ramadan and Eng, Mohamed Hassan participated in the honoring of the employees of El SAKYA Company.